As you will have seen from my previous blogposts, Denmark has a huge amount to offer for anyone seeking the perfect family holiday. We visited Denmark during the summer holidays, where we traveled from North Jutland to West Jutland. In this blogpost, I will highlight a few of the many great places you can visit in the stunning region of Hvide Sande and the West Coast of Jutland, which is perfect for families with children!


Hvide Sande
Hvide Sande is a small coastal town, situated in the middle of the stunning Holmsland Sand Dunes, and further placed around the artificial canal which connects the extensive waters of the Ringkøbing Fjord with the nearby North Sea. It is located in the western part of Central Denmark with a population of around 3,000 people living here. It is also the fifth largest fishing port in Denmark, with a thriving fishing industry.
Holmsland Sand Dunes
The wide expanse of impressive natural sand dunes, provides the perfect destination for any visitor to enjoy hiking or cycle around. The area offers stunning views of the local landscape and sheltered hollows to rest, picnic and escape others. These spectacular dunes are a protected area and are shaped by the strong westerly winds, coming in off the North Sea and are naturally held in place by swathes of robust marram grasses, which continually display an array of inviting colours. Especially, during those long summer days and golden sunsets.
Landal Seawest
Our stay was at Landal Seawest, which is a first class accommodation, located close to the mainroad and good transport links to nearby towns and attractions. The park itself is modern and has an extensive array of quality accommodation types. From bigger houses with gardens to more cosy and convenient houses that are built in a traditional, simplistic Scandinavian style.
With many exciting activities to experience, the swimming pool forms one of the main attractions, which is perfect for children. It has slides, whirlpools, rapids and a big swimming and discovery area. It is clean, modern and provides a great experience for guests at Landal and also day visitors. The park has other great amenities from restaurants, a bowling alley, inside and outside play facilities, shops. You can play sports or simply enjoy the parks natural surroundings.
Ringkøbing Fjord
Away from the main coastline is the impressive Ringkøbing Fjord, which despite its name, is in fact a shallow lagoon, ideal for all types of nature lovers and watersports enthusiasts. The Skjern River ends in Ringkøbing Fjord with a large river delta system to the east.
The beautiful and expansive lagoon is shielded from the North Sea by a long isthmus of land named Holmsland Dunes. At the town of Hvide Sande, there is a canal in the middle of the isthmus, where a floodgate is positioned and provides access to the sea to the west. The fjord is pretty impressive with about 30 kilometres long and 2 to 3 meters deep! Here you will find the 9 Must-sees in Ringkøbing.
Viking museum(s)
Denmark not only has a rich heritage, but also a historical past. In the area that surrounds Hvide Sande, there are many interesting museums and historical sites, making it a really good destination for anyone interested in the Vikings.
Close to our Landal stay, was the Viking Museum at Bork Viking Harbour. This is a 'living museum' that really goes a long way to bringing this important time period to life. Step back in time to 1,000 years and enjoy what life was like. The museum houses many different artefacts and has recreated what life was like, in a very effective way. Both children and adults can enjoy making jewellery, cooking bread, taking a ride of a longboat and play some traditional Viking games. A great recommendation for children!



Beach life

The beaches here seem to run for miles and attracks many tourists. A stroll along this coastline gives you a great sense of freedom.
Also, you can enjoy a great beach life in this area, providing families a great opportunity to relax in one of the many natural surroundings. If you are looking for a more energetic time, there are many opportunities to have a dip in the sea, surf and even partake in exhilarating kitesurfing lessons. With good wind conditions, providing great sporting activities.

WOW-Park
Another fantastic place to visit with children, is Wow-Park. This impressive adventure playground is set in woodland, near the village of Skjern. With it's activity centre, designed as nature intended, this impressive site has been created from an old farm building. It houses a shop, eating area and craft centre. The adjacent woodland is every adventurer's paradise, as you can have hours of fun playing in the trees, playing football (in nets, high in the trees) or simply rest in one of the many hammocks, which are situated in many of the quieter spots. This definitely is a must see place. There is a huge amount to do for every family.
Legoland
The world famous Legoland is a great visit. The amusement park is to be found in the town of Billund (the home of LEGO), which is just one hour drive from our Landal accomodation and is definitely well worth visiting with small children.
Legohouse, home of the brick!
Only 5 minutes drive from Legoland, you will find Legohouse. This architectural highlight and fun experience is the perfect destination stop for any family visiting this region. We found this place so unique, that I have written a separate blog about Legohouse. Read my blog about Legohouse here!
Any Suggestions?
If you have the chance, I would thoroughly recommend placing the West of Jutland high on your travelbucket list, especially when traveling with children. Have you been here already? I would love to hear your suggestions for visiting in this area! Please leave your comment below.
I would like to take this opportunity to thank both VisitDenmark and Hvide Sande for allowing this trip to be a possibility.
It goes without saying I loved every single minute of my latest visit and feel priviledged to spend yet more time in a country I really love. The experience was great and I hope to be back in this region or another sometime soon!
GET THAT SILENT LOOK WITH
MY ADOBE LIGHTROOM
EDITING PRESETS PACKS:
A collection of Landscape photography Adobe Lightroom Presets Packs by the signature of Dutch photographer Claire Droppert. She captures Sounds of Silence from all over the world. Presets with a desaturated, simplistic and calming effect.
prints & walldecorations available in my webshop: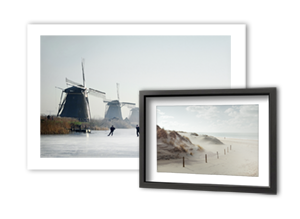 Fill your interior with Sounds of Silence... A collection of simplistic and unique works from Dutch Photographer Claire Droppert. Choose from a variety of different sizes and materials: metallic, wood, aluminium, canvas, plexiglass and many more.