One thing that continually fascinates me about France, is its wide and varied array of natural landscapes, that can be observed throughout the country. During each visit to France, I always seem to see something new and interesting which keeps me wanting to come back and see more.
In this blog I will highlight some of the specific places you can visit on the island of Noirmoutier, which will mainly be focussed on the natural aspects, as opposed to simply highlighting all of the tourist hotspots.


Île de Noirmoutier
For my latest visit to France, I had the chance to explore the coastal landscape and maritime life of the west coast and experience a great stay on the Ile de Noirmoutier, which is a small island that lies off the western coast and is located to the south west of the nearby city of Nantes. It is a picturesque area, which sees many people flock here to enjoy a number of quality campsites that are readily available all over the island. There are many good sandy beaches here and a wide variety of water based activities that can be enjoyed here.
Glamping with Huttopia
We chose to fly from Amsterdam to Nantes, where KLM run a regular service that flies three times a day. The island of Noirmoutier is just a short two hour drive from the airport at Nantes. In order to fully immerse ourselves in the full outdoor experience and atmosphere of the island, we decided to go on a glamping holiday (which is basically a glamorous form of camping). We chose this option as we decided to fly, and on arrival at our final destination we wanted a little bit of comfort, as we did not bring too much with us.
Huttopia ran the campsite. They are an outdoor camping company which has many great camping sites in nature, located all over Europe and North America. With our sheltered spot, located close to the beach, this provided the ideal location for us to also explore further afield. We were right next to areas of outstanding nature and could easily enjoy a beautiful sunrise every morning, right in front of our tent, it was perfect! Our tent at the campsite was great and it had all the facilities and amenities we needed. The camping spot had an amazing sea view and was situated very close to edge of the beach. From here we could easily walk out on to the beach, sit around at our leisure and experience the amazing tidal changes that are so evident in this area of north western France.
Tidal change
In the Pays de Loire region of France there is a very unique road. Once I was aware I would be visiting the area, I knew it would be high on my list of places to visit and capture. The Passage du Gois is steeped in history and it was once the only road to and from the island of Noirmoutier. Its connection to the island was essential, as it was the only means of getting from the mainland of France out to the island. The passage itself is 4.5km long and is flooded twice a day, leading to the road being fully submerged by the encroaching waters.
During the low tide it becomes a popular route and a go to destination for tourists who come here to witness the reseeding tides or to perhaps take to the sand, in order to harvest all manner of crustaceans. Besides the appearance of tourists to witness this event, there is also a run that takes place each year where the participants attempt to out run the tidal flow. Of course it is an exhilerating race, as many competitors make it in good time, but often stragglers get caught in the tide and can of course make it even more difficult to complete.


fruits de mer
The coastal tidal surges are very evident and hold a huge significance in how people live their lives here. Along the coastline there is high tide and low tide twice a day. During the periods of low tide the waters reseed dramatically to leave the sand and bare rocks only on show. With that dramatic landscape appearing the locals and tourist alike appear on the beach to begin extracting the jewels from the sea.
Throughout these moments I was continually captivated by this interesting past time and loved seeing this take place each and every day and when time allowed we too took the water and enjoyed harvesting our very own crop.
These natural jewels come in the form of crustaceans, with many different clams and snails found all around. It is a wonderful sight to see, as locals take to the water with buckets in hand and a claw hammer implements to scrape and extract the shells from off the sea bed. It is an integral part of their local culture and an essential component of the wider French cuisine.
Beaches
The islands beaches were varied and interesting. On the one hand you have the beaches the west coast, which tend to be long and sandy, but exposed to the wind and the challenging weather that comes off the Bay of Biscay. Whereas on the east side of the island, the beaches are sheltered, with small sandy coves. All of these stretches of sand are very pretty, but they are tidal, so during the day the water rises and falls dramatically according to the tidal flow. This enables you to take some wonderful walks along the long sandy beaches and capturing a photo at the right time can display tranquil waters and a calming scene. Something I always look to capture within my style of imagery.
Weather
The weather on the island was generally pretty good during our stay, but due to its proximity on the edge of the Bay of Biscay it meant we did often see one or two drastic changes, especially when the clouds gathered and winds began to rattle across the islands flat landscape. As a photographer, these interesting weather patterns and changes led to some spectacular cloud formations and some landscape photography opportunities. To capture these moments were fairly easy for me and some of the skies cast were amazing to witness. The daily sunrise and sunsets offered some magical colours that could arguably rival the most dramatic of settings from around the world, of course if you are in the right place at the right time.
I would like to thank Huttopia Europe for our wonderful stay. I hope one day to return to this amazing place to enjoy the outdoors and the great experience of glamping!
BLOGS YOU MIGHT ALSO BE INTERESTED IN:
SIGN UP TO RECEIVE
MY LATEST NEWS AND UPDATES!
GET THAT SILENT LOOK WITH
MY ADOBE LIGHTROOM
EDITING PRESETS PACKS:
A collection of Landscape photography Adobe Lightroom Presets Packs by the signature of Dutch photographer Claire Droppert. She captures Sounds of Silence from all over the world. Presets with a desaturated, simplistic and calming effect.
prints & wall decorations available in my webshop: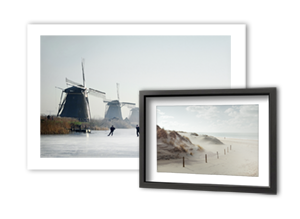 Fill your interior with Sounds of Silence... A collection of simplistic and unique works from Dutch Photographer Claire Droppert. Choose from a variety of different sizes and materials: metallic, wood, aluminium, canvas, plexiglass and many more.